بسم الله الرحمن الرحيم
Sayyid Abul Ala Maududi – Tafhim al-Qur'an – The Meaning of the Qur'an
---
22. Surah Al Hajj (The Hajj)
Name
This Surah takes its name from v. 27.
Period of Revelation
As this Surah contains the characteristics of both the Makki and the Madani Surahs, the commentators have differed as to its period of revelation, but in the light of its style and themes we are of the opinion that a part of it (vv. 1-24) was sent down in the last stage of the Makki life of the Holy Prophet a little before migration and the rest (vv. 25-78) during the first stage of his Madani life. That is why this Surah combines the characteristics of both the Makki and the Madani Surahs.
The sudden change of the style from v. 25 shows that probably vv. 25-78 were sent down in the month of Zul-Hijjah in the very first year after Hijrah. This is indicated by vv. 25-41 and confirmed by the occasion of the revelation of vv. 39-40. It appears that the month of Zul-Hijjah must have brought to the immigrants nostalgic memories of their homes in Makkah and naturally they must have thought of their Sacred City and of their Hajj congregation there, and grieved to think that themushrik Quraish had debarred them from visiting the Sacred Mosque. Therefore, they might even have been praying for and expecting Divine permission to wage war against those tyrants who had expelled them from their homes and deprived them of visiting the House of Allah and made it difficult for them to follow the way of Islam. It was at this psychological occasion that these verses were sent down. That is why the purpose for which Masjid-al- Haram was built has been specifically mentioned. It has been made plain that Hajj(pilgrimage) had been enjoined for the worship of One Allah. But it is an irony that afterwards it had been dedicated to the rituals of shirk and the worshipers of One Allah had been debarred from visiting it. Therefore, permission for waging war against those tyrants has been given to oust them from there and to establish the righteous way of life for establishing virtue and eradicating evil. According to Ibn Abbas, Mujahid, Urwah bin Zubair, Zaid bin Aslam, Muqatil bin Hayyan, Qatadah and other great commentators, v. 39 is the first verse that grants the Muslims permission to wage war. Collections of Hadith and books on the life of the Holy Prophet confirm that after this permission actual preparations for war were started and the first expedition was sent to the coast of the Red Sea in Safar A.H. 2, which is known as the Expedition of Waddan or Al- Abwa.
Subject Matter and Theme
This Surah is addressed to: (1) The mushriks of Makkah, (2) the wavering Muslims, and (3) the True Believers. The mushriks have been warned in a forceful manner to this effect: "You have obdurately and impudently persisted in your ideas of ignorance and trusted in your deities instead of Allah, though they possess no power at all and you have repudiated the Divine Messenger. Now you will meet the same end as has been the doom of those like you before. You have only harmed yourselves by rejecting Our Prophet and by persecuting the best element of your own community; now your false deities shall not be able to save you from the wrath of God". At the same time, they have been admonished time and again for their creed of shirk and sound arguments have been given in favor of Tauhid and the Hereafter.
The wavering Muslims, who had embraced Islam but were not prepared to endure any hardship in its way, have been admonished to this effect: "What is this faith of yours? On the one hand, you are ready to believe in Allah and become His servants provided you are given peace and prosperity but, on the other, if you meet with afflictions and hardships in His Way, you discard your Allah and cease to remain His servant. You should bear in mind that this wavering attitude of yours cannot avert those misfortunes and losses which Allah has ordained for you."
As regards the true Believers, they have been addressed in two ways: (1) in a general way so as to include the common people of Arabia also, and (2) in an exclusive way:
The Believers have been told that the 

mushriks

 

of Makkah had no right to debar them from visiting the Holy Mosque. They had no right to prevent anyone from performing Hajj because the Holy Mosque was not their private property. This objection was not only justified but it also acted as an effective political weapon against the Quraish. For it posed this question to the other clans of Arabia: Were the Quraish mere attendants of the Holy Mosque or its owners? It implied that if they succeeded in debarring the Muslims from Hajj without any protest from others, they would feel encouraged in future to debar from Hajj and Umrah the people of any other clan, who happened to have strained relations with the Quraish. In order to emphasize this point, the history of the construction of the Holy Mosque has been cited to show that it was built by Prophet Abraham by the Command of Allah and he had invited all the peoples to perform Hajj there. That is why those coming from outside had enjoyed equal rights by the local people from the very beginning. It has also been made clear that that House had not been built for the rituals of 

shirk

 

but for the worship of One Allah. Thus it was sheer tyranny that the worship of Allah was being forbidden there while the worship of idols enjoyed full license.

In order to counteract the tyranny of the Quraish, the Muslims were allowed to fight with them. They were also given instructions to adopt the right and just attitude as and when they acquired power to rule in the land. Moreover, the Believers have been officially given the name of "Muslims", saying, "You are the real heirs to Abraham and you have been chosen to become witnesses of the Truth before mankind. Therefore you should establish salat and pay the zakat dues in order to become the best models of righteous life and perform Jihad for propagating the Word of Allah." (vv. 41,77, 78.)
It will be worth while to keep in view the introductions to Chapters II (Al-Baqarah) and VIII (Al Anfal).

In the name of Allah, the Compassionate, the Merciful.


[1-2] O people, save yourselves from the wrath of your Lord: the fact is that the earthquake of the Resurrection is a terrible thing.1 On the Day you behold it, you will see that every suckling woman will forsake her suckling,2 and every pregnant female will cast her burden, and the people will appear to you to be intoxicated, though they will not be drunk, but the dreadful torment from Allah will be such (as to make them reel like drunkards).3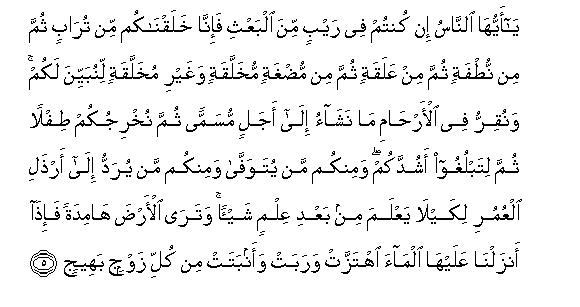 [3-7] There are some among the people, who indulge in discussions about Allah without any knowledge4 and follow every rebellious Satan, concerning whom it has been decreed that he will mislead whoever takes him for a friend and will show him the way to the torment of Hell. O people, if you have any doubt about Life after death, you should know that We first created you of clay, then of a sperm-drop5 then of a clot of blood, then of a lump of flesh, shaped or shapeless.6 ( We are telling you this) so that We may make the reality plain to you. And We make those (sperm drops), which We will, remain in the wombs for a fixed period, then We bring you forth as a child; then (We nourish you) so that you may attain to your full youth. And there may be among you one who is recalled earlier and one who is returned to the most abject age so that he should know nothing even after knowing all he could.7 And you see the land lying dry and barren, but as soon as We send down rain water upon it, it stirs (to life), and swells and brings forth every kind of luxuriant vegetation. This is so because Allah is the Truth.8 He brings the dead to life and He has power over everything and (this is a proof that) the Hour of Resurrection is sure to come and there is absolutely no doubt about it, and most surely He will raise up those who are lying in the graves.9



[8-10] There are still others who arrogantly10 dispute about Allah without any knowledge11 and guidance12 and illuminating Book,13 so that they may lead people astray from Allah's Way.14 Such a one shall incur disgrace in this world, and on the Day of Resurrection, We will make him taste the torment of the Fire, saying, "This is the future you have prepared for yourself with your own hands" . In fact, Allah is not unjust to His servants.






[11-16] And there is a type of man who serves Allah standing on the borders (of the Faith15 ); is if some good comes to him, he is satisfied (with his Faith), but if he encounters a trial, he turns his back (upon it).16 Thus he loses both this world and the Hereafter: this is the manifest loss.17 Then, instead of Allah, he invokes those who can do him neither harm nor good: this is the last extremity of deviation. He invokes those who are more likely to do him harm than good.18 What an evil guardian he chooses and what an evil companion!19 As for those who believed and did righteous deeds,20 Allah will admit them to Gardens underneath which canals will be flowing. Allah does whatever He wills.21 As for the one who presumes that Allah will neither help him in this world nor in the Hereafter, he should (if he can) ascend the sky by a rope and cut a hole into it and then peep through it and see for himself whether any device of his can avert his doom, which he abhors22 And We have sent down this Qur'an with clear teachings such as these, but Allah alone guides whomsoever He wills.


[17-18] As regards those who believed23 and those who became Jews24 and the Sabaeans25 and the Christians26 and the Magians27 and those who committed shirk,28 Allah will judge between them on the Day of Resurrection,"29 for everything is in the sight of Allah. Do you not see that everything in the heavens and the earth bows down before Allah?30 31 and so do the sun, and the moon and the stars, and the trees and the beasts and a large number of the people32 and even a large number of those who have deserved the torment.33 And the one whom Allah degrades and disgraces has none to make him worthy of honor;34 Allah does whatever He wills.35






[19-24] These are the two parties who have disputed about their Lord.36 As regards those who have disbelieved, garments of fire have already been cut out for them;37 over their heads shall be poured boiling water, which will melt not only their skins but also the inner parts of their bellies and there shall be maces of iron to lash them. Whenever in their anguish they will try to come out of Hell, they shall be driven back into it (with the rebuke): "Taste now the torment of burning." As regards those, who believed and did righteous works, Allah will admit them into Gardens underneath which canals will be flowing: there they will be decorated with golden bracelets and pearls,38 and their garments will be of silk'. (This is because) they were guided to accept the pure Word,39 and shown the Way of the All Praiseworthy.40

[25] Those who disbelieved,41 and are (now) debarring others from the Way of Allah and from visiting that Sacred Mosque,42 which We have assigned to all mankind with equal rights for its dwellers and the outsiders,43 (surely deserve punishment); whosoever shall deviate from righteousness, and adopt in this (Sacred Mosque) the way of iniquity,44 We will make him taste a painful chastisement.




[26-29] Recall to mind the time when We assigned the site of this House (the Ka`bah) to Abraham, saying, "Do not associate anything as a partner with Me; keep My House clean and pure45 for those who go round it and for those who stand and bow down and prostrate (in worship), and make a proclamation to the people to come to you for Hajj from far and near, on foot and on lean46 camels47 so that they may witness the benefits that have been made available here for them:48 and during the known appointed days, they should mention the name of Allah over the cattle He has provided them:49 then they may eat their flesh and also give of it to the indigent and needy.50 Then they should clean off their "dirt51 fulfill their vows52 and go round the "Ancient House."53

[30] This was (the object for which the Ka`bah was built,) and whoso observes the sanctity of the things ordained by Allah, it will be best for him in the sight of his Lord.54
[31] And the cattle have been made lawful for you55 except what has already been mentioned to you;56 therefore guard yourselves against the filth of idols,57 and refrain from all false things.58 Become Allah's sincere servants, turning away from everything and without associating any partner with Him, for the one who associates a partner with Allah, becomes like him who has fallen from heaven. Then either the birds will snatch him away or the wind will blow him off to a place where he will be shattered into pieces.59

[32] This is the fact of the matter: (so understand it well.) And whoso observe the sanctity of what have been ordained as Symbols60 of Allah, do so because of the piety of the hearts.61

[33] You are permitted to derive benefits from the cattle dedicated for sacrifice) up to an appointed time.62 Thereafter the (lawful) place (of their sacrifice) is near the Ancient House.63


[34-35] For every community We have prescribed a way of sacrifice so that the people (of that community) should pronounce the name of Allah over the cattle which He has provided for them,64 (but one and the same object underlies all the different ways). So your Deity is One Deity: surrender to Him alone. And, O Prophet, give good news to those who adopt a humble way,65 whose hearts are filled with awe when Allah is mentioned before them: who endure with fortitude any affliction that befalls them: and who establish Salat and expend of what We have given them.66

[36] And We have included the camels67 (dedicated for sacrifice) among the Symbols of Allah, for there is much good for you in them.68 Therefore make them stand69 and mention the name of Allah over them,70 and when (after the sacrifice,) their backs lie still on the ground,71 you may eat of their flesh and give of it to the contented ones and to those who ask for it. Thus have We subjected these animals to you so that you may be grateful.72
[37] (Note it well that) neither their flesh reaches Allah nor their blood, but it is your piety that reaches Him.73 Thus has Allah subjected these animals to you so that you should glorify Him for the guidance He has given you.74 And, O Prophet, give good news to those who do righteous works.




[38-41] Assuredly75 Allah defends those who have believed76 for He does not like any treacherous, ungrateful wretch77 at all. Permission (to fight) has been granted to those against whom war has been waged because they have been treated unjustly,78 and Allah is certainly able to help them.79 These are the people who have been expelled unjustly from their homes80 only for the reason that they said, "Our Lord is Allah."81 Had Allah not repelled one people by means of another people, monasteries, churches, synagogues82 and mosques, wherein the name of Allah is often mentioned, would have been demolished.83 Allah will surely help those people who help Him:84 Allah is indeed All-Powerful, All-Mighty. These are the people who, if We give them power in the land, will establish Salat, pay the Zakat dues, enjoin what is right and forbid what is evil,85 and the final decision of all affairs is in the hand of Allah.86




[42-46] O Prophet, if they87 treat you as false, (you should remember that) before them the people of Noah, and the tribes of Ad and Thamud, and the peoples of Abraham and Lot and the dwellers of Midian had treated their Prophets as false and likewise Moses was also rejected. At first I gave respite to all these disbelievers and then seized them.88 Now you can see for yourselves how terrible was My chastisement!89 There are (the ruins of) many a wicked habitation which We destroyed: today they are lying upside down upon their roofs. How many a well has been rendered useless,90 and how many a lofty castle is lying in ruins! Have they not gone about in the land so as to make their hearts think and ears hear? The fact, however, is that it is the hearts in the breasts and not the eyes that become blind.91


[47-48] These people are demanding of you to hasten the chastisement.92 Allah will never fail to fulfill His threat, but a day with your Lord is equal to a thousand years as you reckon.93 There has been many a wicked habitation, whom at first I gave respite and then seized it, and all shall have to return to Me.



[49-51] O, Muhammad, say to them: "O people, I am merely a warner94 who informs you plainly (of the coming evil time)." So those who believe and do righteous deeds shall have forgiveness and honorable provision,95 and those, who will strive to discredit Our Revelations, shall become the dwellers of Hell.



[52-54] And, O Muhammad, (it has always been so with) every Messenger and Prophet96 We sent before you that whenever he had a desire,97 Satan tried to interfere with his desire.98 But Allah eradicates the mischiefs worked by Satan and confirms His Revelations,99 for Allah is All-Knowing, All-Wise,100 (He allows this) so that He may make Satan's obstacles a trial for those, whose hearts suffer from the disease (of hypocrisy) and whose hearts are false–the fact is that these unjust people have gone far away in their enmity-and so that those who have knowledge may realize that this (Message) is the Truth from Allah and may believe in it, and their hearts may submit humbly to it. Most surely Allah always guides the Believers to the Straight Way.101






[55-60] Yet the disbelievers will always remain in doubt about it until the Hour of Resurrection overtakes them suddenly or the scourge of a "barren" day102 descends upon them. On that Day Allah will reign supreme, and He will judge between them; then those who will have believed and done righteous works, will go to the Gardens of Bliss, but those who will have disbelieved and treated Our Revelations as false, shall receive an ignominious punishment. As for those, who left their homes for the sake of Allah and then were killed or died, Allah will make for them a generous provision) and Allah is the best of Providers. He will admit them to a place with which they will be well pleased; indeed Allah is All-Knowing and Clement.103 This is about them. As regards the one, who takes vengeance equal to the wrong that had been done to him, and has again been oppressed, Allah will surely help him.104 Allah is Forgiving and Forbearing.105




[61-64] So it is106 because it is Allah Who brings forth the day from the night and the night from the day107 and He hears everything and sees everything.108 This is so because it is Allah alone Who is the Truth and all others, whom they invoke besides Him, are falsehood,109 and Allah is the Supreme and the Exalted One. Do you not see that Allah sends down rain water from the sky and the land becomes green because of it?110 The fact is that Allah works in imperceptible ways and is fully aware of everything.111 To Him belongs all that is in the heavens and the earth and undoubtedly Allah is All-Sufficient and All-Praiseworthy.112


[65-66] Do you not see that He has subdued to you all that is in the earth and that He has subjected the boat to the law that she floats over the sea at His bidding, and He is supporting the sky in a way that it cannot fall down without His permission?113 The fact of the matter is that Allah is very Kind and Merciful to the people. He it is Who has given you life and causes your death, and He will again bring you to life; yet Man denies the Truth.114



[67-70] For every community115 We have prescribed a way of worship,116 which it follows; therefore, O Muhammad, let them not dispute with you concerning this matter.117 And invite the people to the Way of your Lord, for you are on the Straight Way.118 And if they dispute with you, say to them, "Allah knows full well what you are doing: on, the Day of Resurrection, Allah will judge between you concerning that about which you differ". Do you not know that Allah has full knowledge of everything in the heavens and the earth ? Every thing has been recorded in a Book; this is an easy thing for Allah.119


[71-72] They worship, besides Allah, those for whom He has sent down no authority nor they themselves have any knowledge about them.120 Such transgressors have no helper.121 And when Our clear Revelations are recited to them, you perceive signs of disdain in the faces of the disbelievers as though they were going to assault those who recite Our Revelations to them. Say to them, "May I inform you of a thing worse than this?122 It is the Fire which Allah has promised for those who reject the Truth; and what an evil abode it is!"


[73-74] O mankind! A parable is related to you: so listen to it. The deities, whom you invoke instead of Allah, cannot create a fly even though they may all combine together for this purpose. Nay! if a fly snatches away something from them, they cannot get it back from it. How weak are the suppliants and how weak those whom they supplicate.123 They do not recognize the true worth of Allah' as they should: the fact is that Allah alone is All-Mighty, All-Powerful.


[75-76] Allah chooses His Messengers from among the angels and also from among the human beings (to convey His decrees).124 He hears everything and knows everything. He knows whatever is open before them as well as that which is hidden from them,125 and all matters are resented before Him.126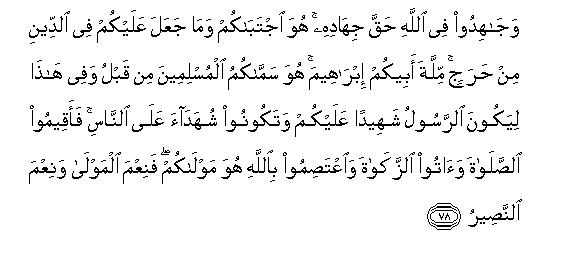 [77-78] O people, who have believed, bow down and prostrate yourselves before Allah, worship your Lord and do righteous deeds: it may be that you attain true success.127 Exert your utmost for the cause of Allah as one should.128 He has chosen you for His service129 and has not laid on you any hardship in your religion.130 Therefore, be steadfast in the religion of your father Abraham.131 Allah had called you "Muslims" before this and has called you132 (by the same name) in this (Qur'an) also so that the Messenger may be a witness in regard to you and you may be witnesses in regard to the rest of mankind.133 Therefore, establish Salat and pay the Zakat dues, and hold fast to Allah,134 for He is your Guardian: What an excellent Guardian and what an excellent Helper!