بسم الله الرحمن الرحيم
Sayyid Abul Ala Maududi – Tafhim al-Qur'an – The Meaning of the Qur'an
---
14. Surah Ibrahim (Abraham)
Name
The Surah takes its name from v. 35 in which mention has been made of Prophet Ibrahim (Abraham). But it does not mean that it contains the life story of Prophet Abraham. The name is merely a symbol lid the names of many other surahs, i.e., the Surah in which Abraham's mention has been made.
Period of Revelation
It appears from the tone of the Surah that it belongs to that group of the Surahs which were revealed during the last stage of the Makkan period. For instance, v. 13 ("The disbelievers warned their Messengers, 'you shall have to return to our community or we will assuredly expel you from our land'") clearly indicates that the persecution of the Muslims was at its worst at the time of the revelation of this Surah, and the people of Makkah were bent on expelling the Believers from there like the disbelievers of the former Prophets. That is why in v. 14 they have been warned, "We will destroy these evil doers," and the Believers have been comforted as were the believers before them, "and after them settle you in the land" Likewise the stern warning contained in the concluding portion (vv. 43-52 also confirms that the Surah relates to the last stage of the Makkan Period.)
Central Theme and Purpose
This Surah is an admonition and a warning to the disbelievers who were rejecting the Message of the Holy Prophet and devising cunning schemes to defeat his Mission. But warning, reproof, censure and reproach dominate admonition. This is because a good deal of admonition had already been made in the preceding Surahs, but in spite of this their obduracy, enmity, antagonism, mischief, persecution etc. had rather increased.

In the name of Allah, the Compassionate, the Merciful.


[1-2] Alif Lam Ra. O Muhammad! This is a Book which We have sent down to you so that you may bring mankind by the help of their Lord out of the dark ways (of ignorance) into the Light (of knowledge) to the Way of that God,1 Who is All-Powerful and inherently worthy of All Praise2 and the Owner of whatever is in the heavens and the earth.

[3] And there is a painful torment for those who reject the Truth: who love the life of this world more than the life pf the Hereafter:3 who debar people from Allah's Way and want to make this Way crooked4 (to suit their wishes). They have gone far astray from the Way of Allah.

[4] Whenever We sent a Messenger to convey Our Message, he delivered it in the language of his people so that he may make it plain to them.5 Then Allah lets go astray whomsoever He wills and shows Guidance to whomsoever He desires.6 He is All-Powerful, All-Wise.7

[5] We sent Moses also before this with Our Signs: and We commanded him, "Bring your people out of all kinds of darkness into Light and admonish, them to learn lessons from the Divine History."8 There are great Signs9 in this for every steadfast and grateful person.10



[6-8] Recall (the time) when Moses said to his people, "Remember Allah's favor on you: He delivered you from Pharaoh's people who oppressed you with cruel afflictions: they slaughtered your sons and let your females live. In this there was a hard trial for you from your Lord. And remember also that your Lord forewarned, `If you be grateful11 I will increase My favors on you, and if you be ungrateful (you should know that) My chastisement is severe indeed'!"12 And Moses said, "If you prove thankless, you and all the dwellers of the earth know that Allah does not stand in need of any of you, for He is All Sufficient and worthy of all praise by Himself."13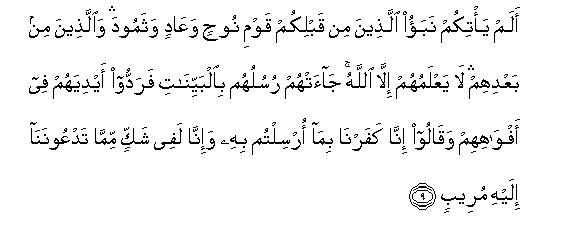 [9] Has14 not the story reached you of those who have gone before you of the people of Noah and Ad and Thamud, and of those who came after them? Allah alone knows their number. When their Messengers came to them with plain teachings and manifest Signs, they thrust their hands into their mouths,15 saying, "We reject the Message with which you have been sent and we have a disquieting doubt about that thing16 to which you are inviting us."



[10-12] The Messengers said, "Do you have doubt about the existence of Allah. Who is the Creator of the heavens and the earth?17 He calls you that He may forgive you your sins and give you respite till your appointed term."18 They answered, "You are no more than human beings like ourselves.19 You intend to debar us from the worship of the deities whom our forefathers have been worshiping. Well, bring a clear Sign."20 The Messengers replied, "It is true that we are no more than human beings like you, but Allah shows His favor to anyone of His servants He pleases.21 And it is not in our power to bring any Sign for you. A Sign can come only by Allah's permission. And in Allah alone should the believers put their trust. And why should we not put our trust in Allah when He has guided us in the ways of our lives? We will bear with fortitude your persecutions of us and the trustful should have trust in Allah alone."





[13-17] At last the disbelievers said to their Messengers, "You shall either return to our religion22 or we will banish you from our land. " Then their Lord revealed to them, "We will destroy these evil-doers and after them settle you in the land.23 This is the reward of the one who dreads that he is accountable to Me and is afraid of the threat of My punishment." They had sought a judgment (and the judgment was passed on them) and every tyrant, the enemy of the Truth, suffered ignominy.24Then after this Hell lies before him where he shall get tainted water to drink, which he shall try to gulp down, but will scarcely swallow it. Death shall surround him on all sides, yet he shall not die; and before him there shall be a grievous torment.



[18-20] The works of those who disbelieved may be likened, to the ashes which the wind scatters on a stormy day. They shall not be able to gain anything from what they did.25 This is the extreme deviation. Do you not see that Allah has based the creation of the heavens and the earth on truth?26 If He will, He can put you away and bring in a new creation in your place. And that is not at all a difficult thing for Allah.27

[21] And when those people shall all be exposed together before Allah,28 then those who were weak in this world will say to those who had posed as big ones."As we followed you in the world, can you now do anything to relieve us from the torment of Allah?" They will reply, "Had Allah guided us to the way of salvation, we would have certainly guided you to it. Now it is all the same whether we bewail it or bear it with patience: there is for us no way of escape."29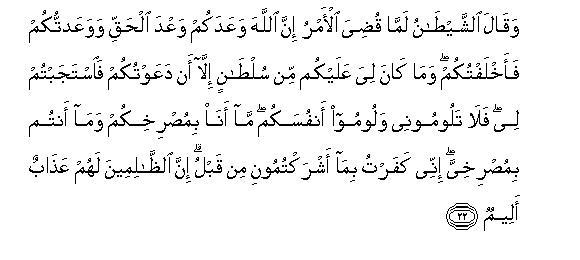 [22] And when Our judgment has been passed, Satan will say, "The fact is that the promises Allah had made with you. were all true. I, too, made some promises with you but I failed to keep any of them."30
Yet I had no power over you; I did nothing but to invite you to my way and you accepted my invitation.31 So do not now blame me, but blame yourselves. I cannot help you here, nor can you help me. I dissociate myself from your making me a partner with God before this.32 Such wrong-doers are sure to receive a grievous torment."





[23-27] And (in contrast to the transgressors), those who have believed and done righteous deeds, shall be admitted to Gardens underneath which canals flow. They shall abide there for ever by the permission of their Lord, and they shall be welcomed there by "peace be on you."33 Do you not see to what Allah' has likened the Pure Word?34 It is like a good tree which has got deep roots into the earth and whose branches have spread high up into heaven.35 It bears good fruit every moment by the permission of its Lord.36 Allah cites these parables for the benefit of people so that they learn a lesson from them. And an evil word37 may be likened to an evil tree; which is torn out from the earth and has no stability.38 Allah makes the believers steadfast in the life of this world and of the Hereafter with the firm Word39 but lets the transgressors go astray.40 Allah has full power to do as He wills.



[28-30] You have seen those people who repaid the bounty of Allah with ingratitude and hurled their people (along with themselves) into the abode of perdition-Hell, wherein they shall enter and it is the most wretched abode to live! And they set up equals with Allah so that they should lead them astray from the way of Allah. Tell them, "Well, you may enjoy yourselves for a while for ultimately you shall have to return to the Fire of Hell."

[31] O Prophet! Tell My servants who have believed, to establish Salat, and expend openly and secretly (on good works) out of what We have given them41 before that Day comes when there shall be no buying and selling and no friendly help.42


[32-34] Allah is He43 Who has created the heavens and the earth, and He sent down rain water from the sky where with He produced different kinds of fruits to provide you with food. It is He Who subdued the ship for you that it may sail in the seas by His order and likewise He subdued the rivers for you. It is He Who subdued the sun and the' moon so that they should steadfastly pursue their courses and He subdued day and night for you.44 It is He Who fulfilled all your requirements;45 so much so that you cannot count His bounties, if you tried to number them. The fact is that man is very unjust and ungrateful.







[35-41] Recall the time, when Abraham prayed,46 saying, "Lord! make this city47 a city of peace, and protect me and my descendants from the worship of idols. Lord! these have turned away48 many people from the Right Way (and they might turn away my descendants as well. Therefore, only those of them) who follow my way, belong to me, but (I leave to Thee) those who follow a different way from mine, for Thou art very Forgiving and Merciful.49 Lord! I have settled some of my descendants in a barren valley near Thy Sacred House. Lord! I have done this in the hope that they would establish Salat there. So turn the hearts of the people towards them, and provide fruits for their food.50 It is expected that they will become grateful. Lord! Thou hast full knowledge of all that we hide and disclose."51 And52 the fact is that nothing in the earth and heavens is hidden from Allah. "All praise be to Allah Who has given me sons like Ismail and Isaac in my old age. Indeed, my Lord hears all prayers. Lord! help make me establish Salat and from among my descendants (raise those who should do this work). Lord! grant my prayer. Lord! forgive me and my parents and the believers on the Day when reckoning will take place."53





[42-46] Do not think that Allah is unaware of what these unjust people are doing; He is only deferring their case to the Day when all eyes shall stare with consternation. They shall be running in terror with heads uplifted and eyes fixed upwards54and hearts becoming void. O Muhammad, fore-warn them of the Day when Our scourge will overtake them: then these wrong-doers will say, "Our Lord! give us a little more respite: we will respond to Thy Message and follow the Messengers." (But it will be said to them decisively,) "Are you not the same people who swore before this that you will never meet with a decline, whereas you had lived in the habitations of those who had wronged their souls and seen how We had dealt with them; and We held them up to you as examples? They had tried all their cunning devices to outwit Us but Allah had the remedy to counteract their devices, even though these were so powerful as to move mountains."55





[47-51] So, O Prophet. Never imagine that Allah will ever go against the promises made to His Messengers.56 Allah is All Powerful and capable of revenge. Warn them of the Day when the Earth and the Heavens shall be totally transformed,57 and all of them shall stand exposed before Allah, the One, the Almighty. On that Day you will see the criminals with their hands and feet in fetters. They shall be in garments of tar58 and the flames of fire shall be covering their faces. This will happen so that Allah may recompense everyone for what one earned: Allah is prompt at reckoning.

[52] This is a Message for mankind so that they may be warned by it and realize that in fact there is but One God, and that men of understanding may learn a lesson from it.